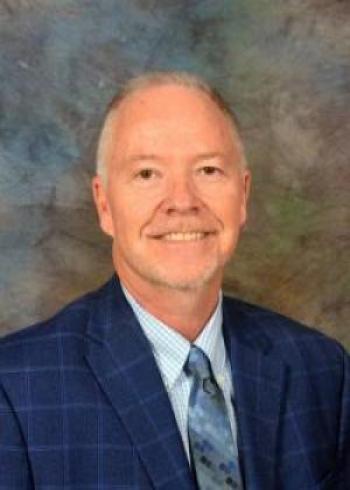 gregpuckett@syemc.com
336-356-5249
Greg started his career with Surry-Yadkin EMC in 1987. He began as a lineman and also has held the positions of service representative, engineering technician, line superintendent and assistant manager, prior to being hired by the member-elected board of directors as executive vice president and general manager in 2011.
Since Greg's direction began in 2011, SYEMC has reached thousands of students through programs such as the Bright Ideas Educational Grants, school field trips to our office and the Fairview solar farm, N.C. Youth Tour trip and scholarship program, Touchstone Energy Sports Camps and by being the first cooperative in North Carolina to partner with the Kenan Fellowship program at N.C. State University to host a local teacher and Kenan Fellow.
In 2018, a written lineman apprenticeship program was created, developed to communicate a clear message of expectations of safety not only to the apprentice lineman but also the men working with the apprentice.
A number of infrastructure improvements have taken place during Greg's tenure including construction of the Double Creek transmission line and construction now underway on the Double Creek substation; building a base for portable substations by additions to the Lomax, Westfield and Yadkin substations; implementing the TWACS metering system; moving forward with CVR and SCADA programs to help reduce power line loss; changing out more than 5,000 bad poles; converting the Westfield substation from 44kV to 100kV; implementing a 6-year system maintenance program; implementing a 3-year breaker maintenance program;; installation of electric vehicle chargers to grow the EV charging network; adding rate designs such as Time-of-Day, EZ Power (prepay) and EV rates; and improving communication with the Board of Directors through implementation of "Call to Order" to access monthly reports. In 2017, a formal strategic plan was developed.
Greg was appointed by Gov. Pat McCrory and then re-appointed by Gov. Roy Cooper and serves on the state's Underground Damage Prevention Board. At the statewide cooperative level, he serves on the Tarheel Electric Membership Association Board of Directors, as president of the North Carolina Electric Membership Corporation Board of Directors, on the North Carolina Association of Electric Cooperatives Board of Directors, on the statewide Competitive Issue Committee and on the Board of Directors for Diversified Energy.
Greg has two children and two grandchildren.