Surry-Yadkin EMC has implemented a Vegetation Management Program that reflects a balanced approach to addressing environmental concerns, and increasing operating costs. The cooperative also considers the impact on wildlife habitat, aesthetics, public and employee safety, outage mitigation, and system integrity and reliability. Surry-Yadkin EMC maintains over 4,000 miles of distribution lines and just over 105 miles of transmission lines in our five-county service area that encompasses Surry, Yadkin, Wilkes, Stokes and Forsyth Counties.
The main focus of Surry-Yadkin EMC is to provide outstanding electrical service to our more than 27,000 members at affordable rates. Surry-Yadkin Electric's goal is to deliver safe, reliable and affordable electrical service to our homes, churches and business. Clearing trees, limbs, and brush allows Surry-Yadkin EMC to not only deliver outstanding service, but it also allows us to prevent outages, blinking lights, safety hazards, and ultimately helps employees restore service more quickly during storms.
Our Vegetation Management Program uses various mechanical methods for clearing, side trimming, pruning and mowing existing rights-of-way and for clearing new rights-of-way. We contract with Carter Utility Tree Service Inc. (CUTS) to perform all of our mechanical clearing operations. CUTS has been performing right-of-way maintenance for Surry-Yadkin EMC for over 50 years and have a tremendous amount of knowledge and expertise in the industry. You have probably seen CUTS at one time or another using a telescopic saw to clear tree limbs away from power lines, bucket trucks pruning trees or bush hogs mowing the right-of-way corridor under the power lines. CUTS crews work diligently throughout the year to maintain our rights-of-way.
Mechanical methods of maintaining right-of-way is one important part of our Vegetation Management Program. However, even with proper mechanical methods our job is not over. Once mechanical crews have cleared the vegetation along the right-of-way corridor, a mature root system is left intact. This root system will produce sprouts that will be 12' to 20' tall before we return, which can lead to power outages, blinking lights and hazardous conditions.
To help address this problem, we will begin using herbicides this spring to reduce low-level vegetation along our rights-of-way through a low-volume herbicide application. Once the right-of-way has been mown, it is allowed to grow for 1 year and achieve a height of 2' to 6'. Contract applicators licensed by the State of North Carolina will walk through the right-of-way wearing backpack containers, and use handheld wands to apply herbicides at very low rates to brush, saplings, vines and other woody stemmed species to control only these specific types of vegetation. Grasses, wildflowers, and shrubs will be left untouched. The following year contract applicators will inspect that corridor to ensure that everything was properly sprayed. If not they will re-apply herbicides to that specific vegetation. What we will all see happen is that the brush, saplings, vines, and other woody stemmed species have not re-established themselves and that the grasses, wildflowers and shrubs are thriving. What this leads to is a better right-of-way that is safer for our employees to work in, and more efficient to manage. Once the initial application has been made we will return in 3 years to retreat the right-of way-corridor. What we will see is a conversion from a woody, brush filled corridor to a green-way corridor filled with native grasses, flowers and shrubs.
Introducing low-volume herbicide application into our Vegetation Management Program was not a decision that we made quickly, or took lightly; we arrived at this decision after years of careful consideration and research. What we discovered is that the introduction of low-volume herbicide application will bring many benefits to not only Surry-Yadkin EMC as an electric cooperative, but also to its members, communities, and wildlife habitat.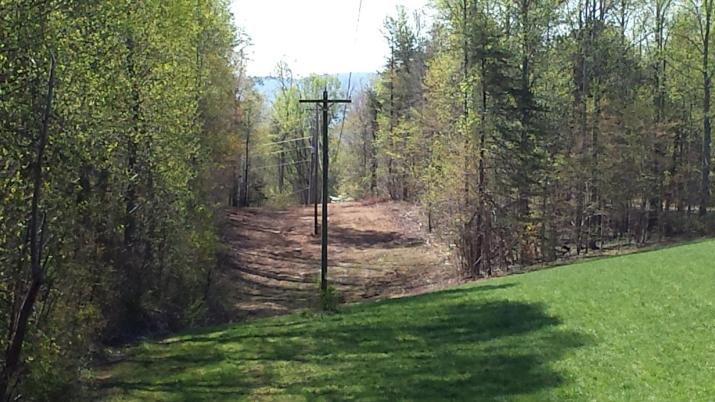 Reduced operating costs: Low-volume herbicide application helps the cooperative save time and money by using selective herbicides at low rates to control the brush, saplings, and vines. This process also allows us to quickly access overhead lines, poles and other facilities, and reduces the frequency that vegetation management work needs to be performed on the right-of-way.
Reduces Service Interruptions: Vegetation is the leading cause of power outages and blinking lights. Using herbicides together with proper mechanical pruning methods will help reduce the number, duration and frequency of outages and blinking lights.
Enhanced Property Appearance: Using selective herbicides at low-application rates will control invasive and undesirable vegetation, and leave the desired vegetation like grasses, wildflowers, shrubs and other native species untouched. Herbicides allow the vegetation to continue to grow, which will enhance the beauty of the property.
Increases Vital Wildlife Habitat: When the right-of-way corridor is mown, it removes all vegetation down to the ground and also removes wildlife habitat. Low-volume herbicide application on the other hand targets only the brush, saplings, vines and other invasive woody stemmed vegetation and leaves intact grasses, wildflowers, shrubs and other native species that is vital to our native wildlife and pollinators. The use of low-volume herbicide application is endorsed by many wildlife advocacy groups, such as the National Wild Turkey Federation.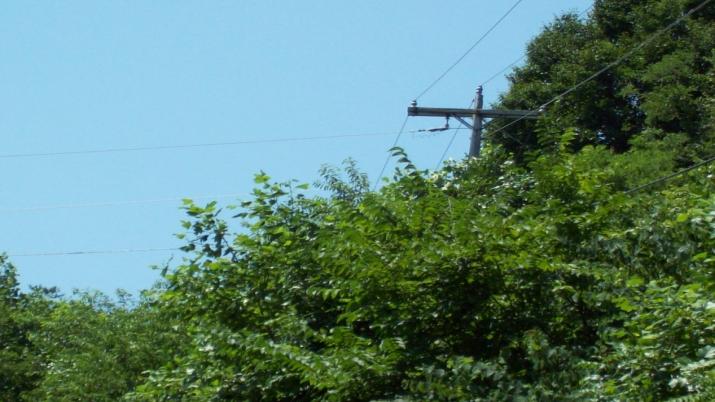 Pictured above is a right-of-way on our system in Surry County. The vegetation ranges from 14' to 20' tall. The pole and overhead lines are inaccessible. Surprisingly this right-of-way had been mown about 3 year prior to this photo.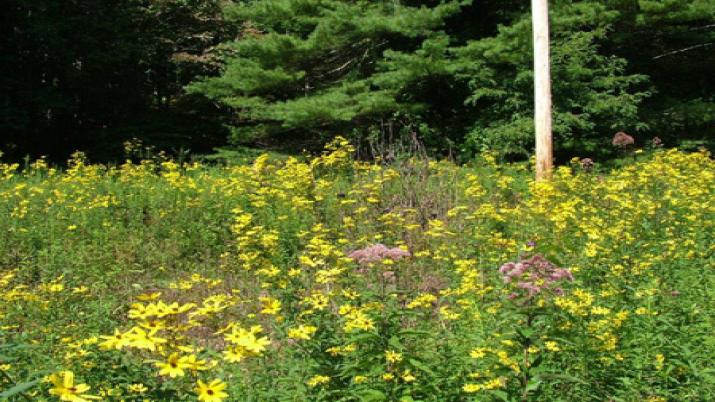 Pictured above is a right of way that is actively treated with low volume herbicide application. Notice that the over grown vegetation is not there and that the grasses, wildflowers and other desirable vegetation are thriving and access to the pole is unrestricted. (This photo is courtesy of our sister cooperative French Broad EMC in Marshall.)
We will be using 3 specific herbicides along with a sticking agent, surfactant and coloring agent.
Herbicides Used:
The herbicides listed above are applied to the leaves of the plants, and then they travel to the plants' root system and control the plant permanently. These herbicides have similar plant-specific modes of action to control vegetation. Dow AgroSciences Rodeo and Nufarm Polaris both affect the plants' ability to process amino acids, while Dow AgroSciences Milestone VM disrupts the plants metabolic growing process. A surfactant is used to reduce the surface tension of water so that it will not pool on the plants leaves, and a sticking agent is used to help the water-based herbicides stick to the leaves of the plant. The coloring agent is required by the State of North Carolina to show DOT personnel where we have sprayed when our rights-of-way overlap.  
We have contracted with Top Gun Application Services LLC to perform all of our low-volume herbicide application on a three-year cycle; they have over 20 years of experience and were highly recommended by other electric cooperatives and industry professionals.  If you would like more information on our Vegetation Management Program please call or email Kenny Mosley, right-of-way and system inspections supervisor, at 336-356-5256.
Interesting links on herbicides:
CWC Chemical is the distributor of all herbicides used on Surry-Yadkin EMC's system.
Aqumix is the company we used to custom blend and package all herbicides on Surry-Yadkin EMC's system; all packaging is done in returnable and refillable containers.
Integrated Vegetation Management Fact Sheet from the U. S. Environmental Protection Agency
http://www.epa.gov/pesp/htmlpublications/ivm_fact_sheet.html